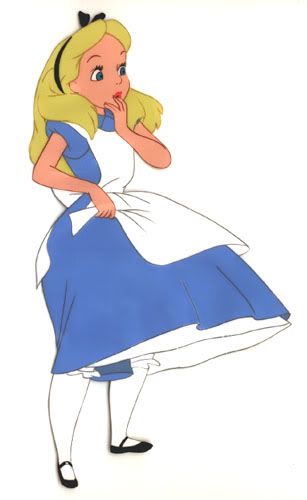 I know it may be a blogger cliché to be inspired by Alice in Wonderland (along with being a Zooey Deschanel fangirl and liking cupcakes), but I bought an Alice in Wonderland inspired dress yesterday and only realised once I got it home how much it makes me feel like Alice in Wonderland. It isn't obviously Alice in Wonderland-esque, but the blue and cream together and cute peter pan collar are definitely channelling Alice.
This dress was a complete bargain, at only £10 from River Island! I was running around our local shops trying to find something to wear for my first works night out and in desperation went into River Island, hoping that nothing would be too 'River Island-ed' (i.e. covered in sequins or diamanté and a horrible River Island logo), and stumbled upon this in the sale section. In my size too! It is possibly a little bit too big for me but they didn't have it in any other sizes so I snapped it up. Coincidentally, I didn't end up wearing it for my work night out, but I wore it to go out for Sunday lunch today. Being slightly big has it's bonuses, as after eating a huge meal it wasn't too uncomfortable! Haha!
Goodness, is it Sunday already? The weekend just isn't long enough! I have had such a busy weekend too, I saw Inception on Friday (amazing), works night out last night and Sunday lunch with all my family today. I think I need another weekend to recover! I guess I better get used to making the most of my weekends now though. How do you all like to spend your weekends? Completely relaxing or jam packed? I like a bit of both really.